Ryan Hurst
Talk

1
965pages on
this wiki
Ryan Hurst
Information
Portrays
{{{Portrays}}}
Date of Birth
{{{Date of Birth}}}
Birth Place
Santa Monica, California, USA
Age
{{{Age}}}
Gender
{{{Gender}}}
Hair
{{{Hair}}}
Ethnicity
{{{Ethnicity}}}
Ryan Hurst is an American actor who plays Harry 'Opie' Winston on Sons of Anarchy.
Biography
Edit
Ryan most notably starred as Gerry Bertier, as a white linebacker in Disney's Remember the Titans and as Alison's brother, Michael, in the show Medium. He also played the role of football player Lump Hudson in The Ladykillers, appeared in the movie "We Were Soldiers" as Sgt. Savage, and starred in the TNT show Wanted. In Saving Private Ryan, Hurst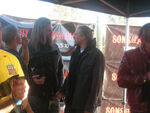 portrays a paratrooper who, because of temporary hearing loss, cannot understand Captain Miller's questions about sighting Private Ryan which forces Miller (played by Tom Hanks) to ask the questions in writing. He currently plays Opie on the FX network series
Sons of Anarchy
.
Hurst was born in Santa Monica, California, the son of Candy Kaniecki, an acting coach, and Rick Hurst, an actor. Hurst attended the Santa Monica High School.