Katey Sagal
Talk

0
948pages on
this wiki
Katey Sagal is an American actress who plays Gemma Teller Morrow on Sons of Anarchy.
Biography
Edit
An extremely gifted and versatile performer adept at both comedy and drama, actress/singer Katey Sagal became a household name in the late 80s as the fabulously brazen, undomesticated "Peg Bundy" on the enduring Fox series "
Married with Children
" (1987). During its lengthy run, she received three Golden Globe and two American Comedy Award nominations. As popular and identifiable as her Bundy persona was, Katey assertively moved on without a hitch after the show went off the air, not only starring in other sitcoms and TV movies, but portraying characters that were polar opposite to the outrageous role that first earned her nationwide attention.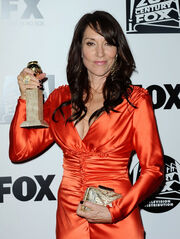 In recent years, in addition to her busy on-camera scheduling, Katey has retraced her steps back to her first love: singing and songwriting. With the support of her record label Valley Entertainment, she released the album "Room" in 2004, which combined such classics as "Feel a Whole Lot Better" and "(For the Love of) Money" with original songs she penned, including "Life Goes Round," "Daddy's Girl" and "Wish I Were a Kid". "Room" is her first CD since her 1994 debut "Well."
Born Catherine Louise Sagal, her father was the late Boris Sagal, the noted TV and film director; her mother, Sara Zwilling, was a director and singer. Katey began performing at age 5 and studied voice and acting at the California Institute of the Arts in Valencia, California. A singing waitress during her "salad" years, she first started performing with the band "The Group with No Name," and then caught a break after hooking up with Gene Simmons and his '70s rock band KISS.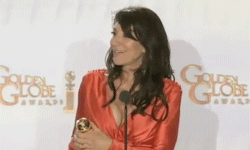 In the meantime she gained valuable experience as a backup recording singer for Simmons and such other established stars as Bob Dylan, Olivia Newton-John, Etta James and Tanya Tucker. Katey also was dynamic performing live backup with diva Bette Midler as one of her "Harlettes" in Bette's wildly avant garde stage shows during the late '70s and early '80s.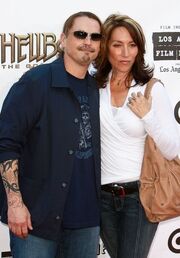 In her post-Bundy career, Katey has continued to demonstrate a strong range, playing a much more responsible parent in the popular sitcom "8 Simple Rules" (2002). Co-starring the late John Ritter , Katey valiantly moved to single head of household after Ritter's sudden passing in 2003 with highly successful results. Moreover, She has been a main cast member of Fox animated sci-fi sitcom Futurama , created by The Simpsons creator Matt Groening , and voiced the lead female one-eyed human-like mutant, Turanga Leela .  
Katey resides in the Los Angeles area with husband, writer/producer/director/creator Kurt Sutter, whose acclaimed work includes "The Shield" (2002) and the offbeat "Sons of Anarchy" (2008), the latter show created by Sutter with Katey intriguingly cast as a motorcycle club family matriarch. They share their home with three children, Sarah, Jackson and Esmé, and three dogs, Lumpy, Lola and Blue.