John Teller
Talk

0
815pages on
this wiki
John 'JT' Teller, was Gemma's first husband. They had two children together, Jackson (Jax) and Thomas Teller. He was a founding member of the Sons of Anarchy MC .
Biography
Edit
Background information
Edit
John 'JT' Thomas Teller, was born May 5, 1940. He was an Army paratrooper, along with his best friend, Piney Winston. He served two tours in Vietnam, from 1965-1967. Upon returning home, he and Piney saw the deterioration of the country they'd left, and faced considerable discrimination and economic hardship common to many returning Vietnam veterans. Teller formed the Sons of Anarchy Motorcycle Club with Piney and Lenny, with the ho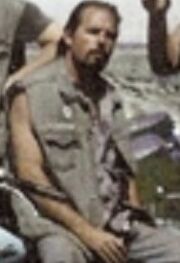 pe that they could rediscover the feeling of brotherhood they had found in Vietnam. Teller started the Sons of Anarchy clubhouse at 1748 Fairfield Rd. in Charming and took over the automotive repair and garage business with Clay Morrow, calling it Teller-Morrow Auto Service. With little other economic opportunity available, the founding Sons made their seed money in the black market, running dope and smuggling contraband goods through Northern California.
John was hit by a semi-truck, Nov. 11, 1993 and died two days later from his injuries. Before his death, he wrote a manuscript called
The Life and Death of Sam Crow: How the Sons of Anarchy Lost Their Way
. He started writing it after his second son, Thomas' death and finished it March 3, 1993, the same year he was killed. The manuscript quotes many great poets, writers, and thinkers, notably Emma Goldman and Pierre-Joseph Proudhon, two towering figures of anarchist thought (indicating that he himself was a philisophical anarchist). It espouses a radical ideology of individual freedom and liberty.  With regard to the MC, John details w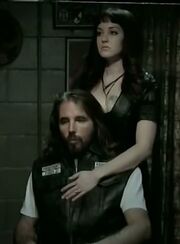 hat he sees as the club's downfall--the Sons' entry into the gun-running business in the manuscript.  It goes on to document John's efforts to get the club out of guns, and back to a peaceful and legitimate motorcycle club and John's unwillingness to change course despite the internal opposition.
Jax found a copy of the manuscript in a box of his father's things in storage.  Another copy was given to Piney, whom John calls his oldest, dearest and wisest friend. At the conclusion of episode 13, Piney gave his copy of the manuscript to Jax during Donna Winston's (Opie's wife) funeral while Jax was sitting on his brother's headstone.
Gemma tells Jax that his father loved writing and was very good at it, and that she bought John the old Selectrix typewriter which is briefly seen in the storage unit.  Gemma goes on to say though, that John began the manuscript during a very weak and confused time in his life. She tells Clay that it is the ramblings of a lost and deluded soul and not to take it seriously, but Jax sees hidden truths in it and changes his thoughts on why they're in guns. This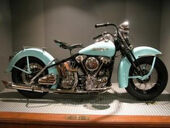 begins the conflict between Jax and Clay.
Letters given to Jax by Maureen Ashby, explain how his father loved her and troubles that existed in Charming with Clay and Gemma. Gemma eventually confirms things in the letters and Jax knows that Clay killed his father. 
Season One
Edit
Clay states to Jax, that he and his father started the gun running business sometime in the mid-80's, served time and lost brothers for it. He had Trinity in 1988, with Maureen, so his prison time had to be between 1989 and 1991, for gun related charges, stemming from an ATF raid on the clubhouse. Clay states to McCeavy, that most of the club was busted for assembling guns at the clubhouse and they learned to keep both sides of club business separate.
Season Two
Edit
In season 2, Gemma tells Jax that after Thomas' death, John had become lost. She suspects that John's death was not an accident and implies that it may have been suicide.
Season Three
Edit
In season 3, Maureen Ashby tells
Gemma
that John is the father of her daughter,
Trinity Ashby
. John briefly appears to Jax, after an explosion in Dunglow, calling, 'Son' to him.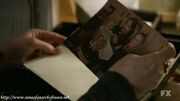 During the final episode of Season 3, NS, while half of the club is being taken away by the ATF, Tara reads some of the letters Maureen slipped into Jax's backpack. As the episode finishes, we hear John's voice over reading the letter saying that if he is to pass away he is sure it will be at the hands of Clay and Gemma.
Also in Season 3 when Liam O'Neill blows up the truck and Jax is thrown to the ground, in the confusion he sees his father (John Teller) walking towards him when in reality it is Clay.
Personality
Edit
John Teller was an idealist. He believed that the Sons could walk on another path, without running guns. He was a jaded war veteran, having experienced the evils of the Vietnam War. His war experience, and subsequent return home to a hostile and divided country helped shape his views on peace, freedom, and liberty.  He became engrossed in the views and writings of anarchism, incorporating these views into his own manuscript.  John was also street smart, and foresaw the complications that would result from the club's entry into gun-running. In the end, he felt that the Sons of Anarchy "lost their way", and gave his life to return the club to peaceful pursuits. 
John Teller had a good relationship with his fellow First 9, Piney Winston, who also shared his concern that the SOA were on a wrong road. 
Appearances
Edit
Season 2 appearances
"Albification"
"Small Tears"
"Fix"
"Eureka"
"Smite" *
"Falx Cerebri"
"Gilead"
"Potlatch"
"Fa Guan"
"Balm" *
"Service"
"The Culling"
"Na Trioblóidí"
Season 3 appearances
"SO"
"Oiled"
"Caregiver"
"Home"
"Turning and Turning"
"The Push"
"Widening Gyre"
"Lochán Mór"
"Turas"
"Fírinne"
"Bainne" *
"June Wedding"
"NS"
Season 4 appearances
"Out"
"Booster"
"Dorylus"
"Una Venta"
"Brick"
"With An X"
"Fruit For The Crows"
"Family Recipe"
"Kiss"
"Hands"
"Call of Duty"
"Burnt and Purged Away"
"To Be, Act 1"
"To Be, Act 2"
* - Voice only