John Teller
Talk

0
806pages on
this wiki
John "J.T." Teller


Vital statistics
Title
President
Full Name
{{{full name}}}
Gender
Male
Status
Deceased
Marital Status
{{{marital status}}}
Spouse(s)
Gemma Teller Morrow
Appearances
{{{appearances}}}
Portrayed by
Victor Newmark
Nicholas Guest (Voice)
John 'JT' Teller, was Gemma's first husband and they had two children together, Jax and Thomas Teller. John was hit by a semi-truck, Nov. 11, 1993 and died two days later of his injuries. Before his death, he wrote a manuscript called The Life and Death of Sam Crow: How the Sons of Anarchy Lost Their Way. The manuscript quotes many beat poets and writers. It espouses a '60s ideology of fighting for freedom but not for material goods. Jax found a copy of this book and another copy was given to Piney whom John calls his oldest, dearest and wisest friend. At the conclusion of episode 13, Piney gave his copy of the manuscript to Jax during Donna Winston's (Opie's wife) funeral while Jax was standing near John Teller's grave. His tombstone reads:
John Thomas
   Teller
   Corporal
   25th Infantry
   Vietnam
   May 5,1940
   Nov 13 1993
   "WE FIGHT BECAUSE
   WE BELIEVE"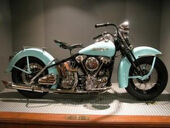 Season Two
Edit
In season 2, Gemma tells Jax that after Thomas' death, John had become lost. She suspects that John's death was not an accident and implies that it may have been suicide.
Season Three
Edit
In season 3, Maureen Ashby tells
Gemma
that John is the father of her daughter,
Trinity Ashby
. John briefly appears to Jax, after an explosion in Dunglow, calling, 'Son' to him.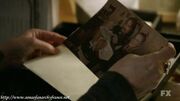 During the final episode of Season 3, NS, while half of the club is being taken away by the ATF, Tara reads some of the letters Maureen slipped into Jax's backpack. As the episode finishes, we hear John's voice over reading the letter saying that if he is to pass away he is sure it will be at the hands of Clay and Gemma.
Also in Season 3 when Liam O'Neill blows up the truck and Jax is thrown to the ground, in the confusion he sees his father (John Teller) walking towards him when in reality it is Clay.