Herman Kozik
Talk

0
867pages on
this wiki
Herman Kozik


Vital statistics
Status
Deceased
Gender
Male
Title
Sergeant-at-Arms
Portrayed by
Kenny Johnson
Herman Kozik was a member of the Tacoma and later Charming chapter of the Sons of Anarchy Motorcycle Club. He was a former U.S. Marine. In Polish, the word kozik means "small, pointy knife."
Biography
Edit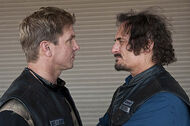 Kozik first appeared in the Season 2 episode "The Culling" where he provided extra muscle when the Charming clubhouse was on lockdown and was also selected as one of the Sons of Anarchy's "ten best" to take part in the arranged unarmed battle with LOAN. It was shown he instantly had conflict with Tig, interestingly both held the rank of Sgt At Arms for their respective charters.
He appeared again in the Season 3 premiere at Half-Sack's wake, where he told Clay and Bobby that he wanted to come back to the Charming chapter. The contentious relationship with Tig is revealed in Season 3 in the episode "June Wedding" to be as the result of a dog named Missy from both of their pasts. His wish to transfer to SAMCRO however is blocked twice due to Tig's no vote when Clay calls for decision to be made on the matter. He is present at the execution of June Stahl
Kozik appears with the club waiting outside Stockton Prison for the members to be released. He hugs Tig upon his release. Tig found out he patched into SAMCRO after he was sent to Stockton.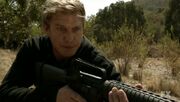 He loses a shipment of guns shortly afterwards to local kids who sell them to two of Vivica's sons but are caught later and after a beating by Kozik and the rest of SAMCRO they confess and the stolen goods are retrieved.
He was killed in episode "Call of Duty" when he stepped on a land mine while fighting the Lobo Cartel. His last words were "You gotta be shittin' me!". His MC kutte was later sent back to the Tacoma charter.
Appearances
Edit
Season 2 appearances
"Albification"
"Small Tears"
"Fix"
"Eureka"
"Smite"
"Falx Cerebri"
"Gilead"
"Potlatch"
"Fa Guan"
"Balm"
"Service"
"The Culling"
"Na Trioblóidí"
Season 4 appearances
"Out"
"Booster"
"Dorylus"
"Una Venta"
"Brick"
"With An X"
"Fruit For The Crows"
"Family Recipe"
"Kiss"
"Hands"
"Call of Duty"
"Burnt and Purged Away"
"To Be, Act 1"
"To Be, Act 2"