Eric Miles
Talk

0
965pages on
this wiki
Eric Miles was a patched member of SAMCRO.
Biography
Edit
Season Three
Edit
Miles is one of three new prospects taken on after the death of Kip "Half Sack" Epps.
According to Alex 'Tig' Trager, Miles and fellow prospect Philip 'Filthy Phil' Russell spent a night building a play structure at the clubhouse, presumably for Abel to play on when he gets older.
Miles and the other prospect are charged with the task of delivering a letter to Gemma Teller-Morrow and Tara Knowles.
Season Four
Edit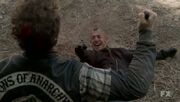 Miles got patched into SAMCRO after Clarence 'Clay' Morrow and others went into Stockton prison. Miles was waiting with SAMCRO outside the prison as the other members were released. In Dorylorus, the club was taking the vote if they wanted to run drugs and when Opie said to Jax that he has his vote and Miles', too, it could mean that Miles and Opie are close friends or that Opie could've been Miles' sponsor to get into the club.
In the 6th episode, Miles discovered that Juice was the one who stole the cocaine from a deal between SAMCRO, the Galindo Cartel, and the Mayans. Trying to stop him, he is shot dead by Juice.  Juice then frames Miles for the theft and convinces the whole charter that Miles is the "lying bitch".
Miles is buried with no patch by Happy and the prospects. However, Chibs has doubts about Miles being the thief.
Miles was the first full patch member of SAMCRO to be killed during the series. Prior to his death, Half Sack died in season two, but he was just a prospect on the verge of joining.
Miles was also the first living prospect to be patched into the club during the series. Half Sack Epps was posthumously made a full patch member of SAMCRO.
Appearances
Edit