Charlie Hunnam
Talk

1
858pages on
this wiki
Charlie Hunnam is an English actor who plays Jackson 'Jax' Teller on Sons of Anarchy.
Biography
Edit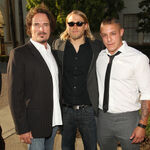 Hunnam was born in Newcastle, England on 10 April 1980. He is the second oldest of four boys. Hunnam is also the ex-son-in-law of Robert Towne and Julie Payne. Hunnam stated that growing up, his favorite actors have always been Academy Award winners Daniel Day-Lewis and Sean Penn. Discovered while clowning around in a shoe shop by a production manager for the British Children's show Byker Grove, Charlie Hunnam was cast in his first role as the long-locked child model "Jason" in three episodes of the show. His first major role came soon after as Nathan Maloney in the Channel 4 drama Queer as Folk (UK). He followed this up with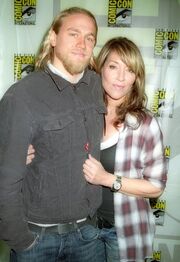 his role as "Daz" in the British film Whatever Happened to Harold Smith?. Upon completion of both projects, Hunnam relocated to Los Angeles, California to pursue his acting career.
His career, meanwhile, expanded to include a recurring role as Gregor Ryder in a TV Series for The WB Network called Young Americans. He then appeared in the short-lived Fox series Undeclared as the British drama student Lloyd Haythe. The series was cancelled after only one season. Following Undeclared, he appeared in Abandon, Nicholas Nickleby (2002), and Cold Mountain.
Hunnam has stated that he does not wish to simply take any role that he is offered: "I have 60 years to make the money, but the choices I make in the next five years are really going to define my career." This decision resulted in his return to the United Kingdom to take the lead as Pete Dunham in Green Street (also known as Green Street Hooligans, Hooligans, and The Yank).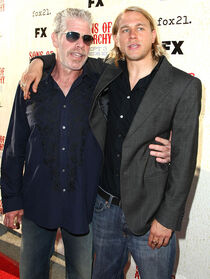 Hunnam played the role of Patric, a member of "The Fishes", in Children of Men (2006) directed by Alfonso Cuarón. Hunnam states that this role was the final part in his "trilogy of mad men." "I played the psycho in Cold Mountain, my character in Green Street is fairly psychotic and now I've got this role.". Hunnam currently stars as Jackson "Jax" Teller in the FX network series, Sons of Anarchy. Hunnam's character "Jax" serves as the President of a prominent motorcycle club in a small California town.
In 2010, Hunnam is going to participate in both The Last Full Measure, a film with Robert Duvall, Bruce Willis, and Morgan Freeman as well as The Ledge, a layered love story with themes of religious faith co-starring Evan Rachel Wood, Peter Sarsgaard, and Terrence Howard. In 2009, Hunnam sold his screenplay, Vlad, to Summit Entertainment with Brad Pitt's Plan B Studios co-producing. The movie is being directed by music video director and photographer Anthony Mandler and will focus on Dracula as a young prince.
In 2012, Hunnam starred in the movie "Pacific Rim" as a former Jaeger co-pilot of the Gipsy Danger called, Raleigh Becket. This Kaiju fighting robot movie is based off the comic book. Pacific Rim is about the 4 races of humans (Russian, American, Chinese, and Australiaian) who have separate Jaegers to fight the Kaiju. Kaijus attack mostly at Hong Kong Bay but the Jaeger Program then finishes them off in this action/packed movie that is mostly rated for ages 12+.
Hunnam was initially set to portray Christian Grey in the upcoming film adaption of the E.L. James novel Fifty Shades of Grey. However, Hunnam withdrew from the film due to conflicts of his schedule with Sons of Anarchy. Hunnam was replaced by former Once Upon a Time actor Jamie Dornan.
Films and TV Show
Edit
Byker Grove
Microsoap
What Ever Happened To Harold Smith
My Wonderful Life
Queer as Folk
Queer as Folk 2
Young Americans
Abandon
Nicholas Nickleby
Undeclared
Cold Mountain
Green Street Hooligans
Children's of Men
The Ledge
3, 2, 1 Frankie Go Boom
Deadfall
Pacific Rim
Sons of Anarchy
Triple Nine
Crimson Peak
He was meant to play Christian Grey from Fifty Shades of Grey film which is out in Valentines day next year and he dropped out because of contract issues was replaced by Jamie Dornon.
Gallery of Charlie Hunnam
Edit